4FW-60 Quiet Dental Air Compressor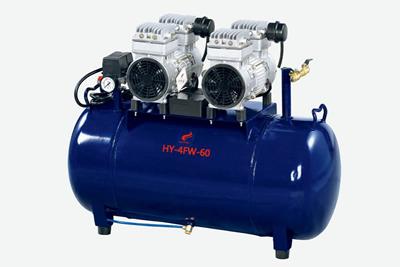 Applicable scene
The HY-4FW-60 quiet dental air compressor is used as a compressed air source for integrated dental units.
Model parameters
| | | | | | | | | |
| --- | --- | --- | --- | --- | --- | --- | --- | --- |
| Shaft power KW | Drive motor power KW | Nominal volume flow M³/min | Specific power M³/min | Rotating speed r/min | Capacity L | Noise Db(A) | Weight Kg | Dimensions mm |
| 1.68 | 1.7 | 0.14 | 8.9 | 1390 | 71 | 80 | 49 | 770×380×690 |
Precautions
When in use, the dental air compressor should be placed on flat surface, as well as in a clean working environment with a good ventilation, low dust levels and low humidity levels in order to ensure an excellent heat dissipation. This also guarantees the air source remains clean and dry. ,
During usage, it is normal for a small amount of moisture to accumulate inside the air compressor tank, making regular drainage a requirement. Draining once a week is usually enough. Before turning off the water, make sure the power is off, and the drain valve is open, allowing the liquid to drain from the tank. When done, tighten the bottom valve on the air tank in order to continue using it.
During usage, the intake muffler requires cleaning once a week, because dust in the air will enter the machine. Turn the power off before cleaning and removing the muffler. Open the end cover on the muffler and remove the interior sponge. Simply clean the sponge using clean water and allow it to dry. Reinstall it inside the muffler to continue using it. During this process, a replacement sponge can be used if needed.
Number of accessories
| | | | | | |
| --- | --- | --- | --- | --- | --- |
| Proposal number | name | The number for each unit | Proposal number | name | The number for each unit |
| 1 | Air compressor components | 1 | 11 | Valve plate | 2 |
| 2 | Eccentric assembly | 2 | 12 | Cylinder head sealing ring | 2 |
| 3 | Fans | 2 | 13 | Valve screws | 2 |
| 4 | Connecting rod screw | 2 | 14 | Limiting block | 2 |
| 5 | Connecting rod | 2 | 15 | Exhaust valve | 2 |
| 6 | Leather bowl | 2 | 16 | Intake valve | 2 |
| 7 | Pressure plate | 2 | 17 | Valve gasket | 2 |
| 8 | Pressure plate screw | 2 | 18 | Valve screws | 2 |
| 9 | Cylinder liner | 2 | 19 | Cylinder head | 2 |
| 10 | Cylinder liner sealing ring | 2 | 20 | Cylinder head screw | 12 |
| | | | 21 | Catheter | 2 |