Overview
The HIROL factory operates within dental equipment workshops, hardware processing workshops, and molding workshops. The annual production output of our factory can reach 6000-8000 pieces of dental equipment.
R & D department in HIROL
The HIROL R&D department is headed by 5 engineers with at least 6 years of experience in dental chair design. We typically design and introduce a new piece of dental equipment every 2 years. Much of our R&D process involves researching the needs of dental professionals and patients all over the world. We aim to provide personalized custom products for any customer looking for outstanding equipment.
In recent years, we developed the first dental chair in China with left or right-handed conversion with an independently heated handpiece that dispenses water, integrated cast aluminum alloy anti-skid base, and other great features.
Hardware workshop in HIROL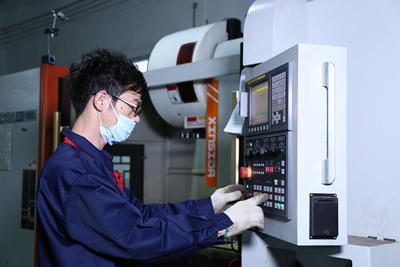 The hardware workshop features 2 digital machining centers and one large-scale cutting machine. There also are many turning-lathes, milling machines and other processing equipment. Each staff member in our factory has a vocational certificate. Therefore, the mechanical accuracy of each product is in good hands.
The team leader, Wanliang Chen, has 10 years of experience with hardware processing. During product processing, he often finds the problem quickly and solves it accordingly. With such a great team leader, we can develop more sophisticated mechanical parts and provide more solutions for product operations.
Assembly workshop in HIROL
The assembly workshop features 4 production lines. And 30 dental chairs can be assembled at the same time on every product line. The workshop team has 18 staff members and we can mass produce 30-40 dental chairs daily.
The team leader, Rufa Ou, has been engaged in the dental chair production industry since 2005. He knows all parts and principles of the dental chair. He once worked as a warehouse manager, production and assembly staff, and also as a manager of molding and assembly workshops. He paved the way for many of the achievements of our company.
Molding workshop in HIROL
The molding workshop was established in 2007. It is equipped with one large plastic vacuum forming machine and molds for the plastic parts of our dental chairs, which was designed independently by our professional engineers. The molding workshop has 8 professional technicians to efficiently produce high quality plastic parts.
The team leader, Shenguang Su, has been involved in the dental chair production industry since 2008. Mr. Su has been responsible for the supervision and production of blister parts since he joined our company. He has been knowledgeable and conscientious in his position for many years and always brings a meticulous attitude towards the production of vacuum formed parts. We believe, under his leadership, our team can provide the best products to domestic and foreign customers.