3FW-60 Quiet Dental Air Compressor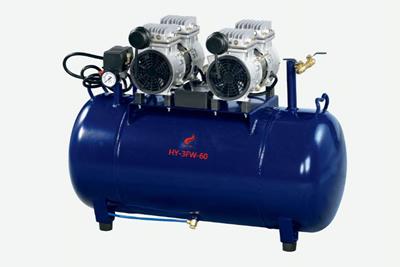 Product performance
Suction pressure: 0.1MPa (Absolute pressure)
Suction temperature: 20℃
Ambient temperature: 5℃~ 40℃
Relative humidity: ≤80%
Voltage: 198V-242V
Frequency: 49Hz-51Hz
Model parameters
| | | | | | | | | |
| --- | --- | --- | --- | --- | --- | --- | --- | --- |
| Shaft power KW | Drive motor power KW | Nominal volume flow M³/min | Specific power M³/min | Rotating speed r/min | Capacity L | Noise Db(A) | Weight Kg | Dimensions mm |
| 1.09 | 1.1 | 0.1 | 9.1 | 1390 | 60 | 75 | 47 | 770×380×670 |
Structure
| | | |
| --- | --- | --- |
| 1. air filter | 2. compressor | 3. pressure Switch |
| 4. gas tank pressure gauge | 5. safety valve | 6. ball valve screw |
| 7. junction box | 8. overload protector | 9. nameplate |
| 10. feet | 11. handle | 12. drain valve |
| 13. gas tank | 14. elbow | 15. high pressure metal hose |
| 16. shock absorber feet | 17. check valve | |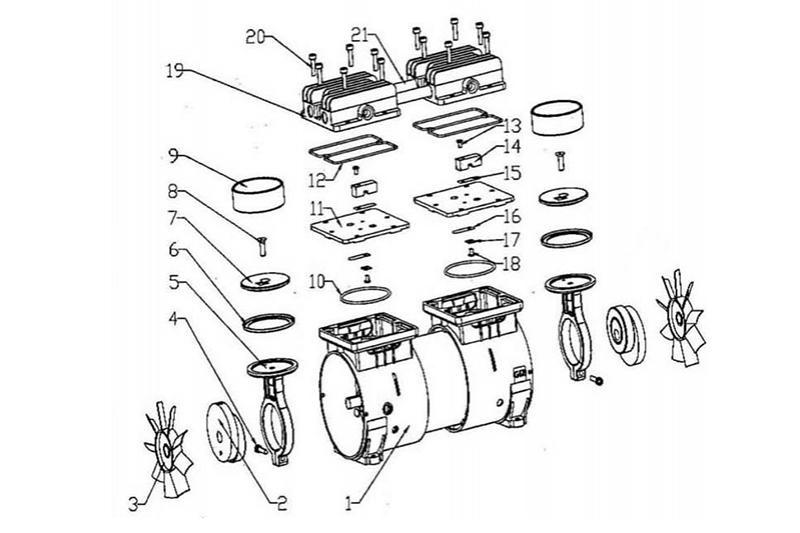 Maintenance
To ensure the safety, the air compressor must not touch any part of the machine when it is operating.
This machine is an oil-free compressor, and thus, requires no lubricating oil.
The working temperature is 5°C~40°C.
Cut off the power when the air compressor is being cleaned, and do not spray water anywhere on the air compressor. In addition, use only a soft, dry cloth to remove dust, and be careful not to damage any of the components.
Cut off power when the air compressor is not in use.